School Calendar 2023 - 2024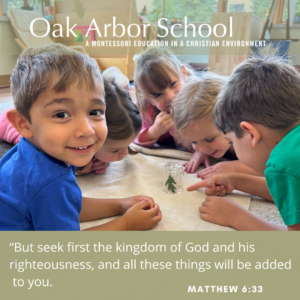 MITTEN TREE COLLECTION: Nov. 27th-Dec. 1st
How to participate
Purchase items from the Gifts Requested list below (as many as you want!). Bring them to school during the collection dates and place them in the box outside the Primary classroom, or in the box by the Christmas tree in the school foyer. Hats and mittens can be placed directly on the tree!
Collection Dates (the week after Thanksgiving break)
Monday, November 27th - Friday, December 1st.
Gifts Requested
Hoodies (age 2-18)
Pajamas (age 2-18)
Family Board Games
Winter Hats (age 2-18)
Waterproof Gloves/Mittens
Books
All items must be new and unwrapped
Neighborhood House has a "shopping day" when local families in need can choose Christmas gifts for their children from donations. Thank you for helping our neighbors during this season of giving!
CHRISTMAS PARADE - December 3rd, 2023 @ 2 PM
This Christmas season Oak Arbor Church & School will be represented in the Rochester Christmas Parade.
We are looking for enthusiastic church and school community members to help!
Everyone interested can contact Camille at: Camille Rodda
CHRISTMAS: FAMILY CRAFT NIGHT; Friday December 8th at 6PM
Join us for a fun family event; get into the spirit of Christmas.
Bring the kids and get crafty! Make & Take crafts for all ages.
This event is free, donations are welcome at the door. Hot chocolate bar and a movie!
CHRISTMAS: Nativity Enactment - Sunday, December 17th - 6 PM
For to us a Child is born, to us a Son is given; and the government shall be upon His shoulder, and His name shall be called Wonderful Counselor, Mighty God, Everlasting Father, Prince of Peace.https://oakarbor.org/
CHRISTMAS: Christmas Eve Service - December 23rd at 5PM
And the angel said to them, "Fear not, for behold, I bring you good news of great joy that will be for all the people. For unto you is born this day in the city of David a Savior, who is Christ the Lord." Luke 2:10-11
https://oakarbor.org/
OPEN HOUSE: and WINTER FESTIVAL - Saturday February 10 th at 1 P.M.
Explore our school and enjoy some fun indoor winter wonderland activities